Automatic fish feeders sometimes have a reputation for being a last resort when you are going out of town.
If you can't find a friend, family member, or neighbor who can feed your fish, most people just get an automatic fish feeder.
When to use automatic fish feeders?
While going out of town is a great time to use an automatic fish feeder, it certainly is not the only time to use one.
Many hobbyists utilize an automatic fish feeder due to the "set it and forget it" nature of the device.
Rather than keeping a schedule of feedings or having to set an alarm, you can use the automatic fish feeder to keep your fish on a timely feeding schedule whether you are at work, out on the town, or just plain forgetful.
Dispense specific amount of food
Besides keeping your fish on a regular feeding schedule, automatic fish feeders can be set to dispense a specific amount of food; this saves money on the amount of food you purchase.
It'll also keep your tank clean, as uneaten food won't have the chance to accumulate at the bottom of the tank. This is a healthier feeding option for the fish as well.
Automatic fish feeders come in many sizes, with various features.
There are battery-operated units with moisture managing feeders designed to keep food from drying out.
Moreover dispensers that will distribute specific amounts and types of foods allows for easier feeding.
Top Models of Automatic Fish Feeders
Eheim Twin Automatic Fish Feeder
Eheim, one of the premier names in the automatic fish feeder game, starts off the list with the Twin Automatic Fish Feeder.
The "twin" portion of the name is derived from its unique feature: two food chambers.
You can add two different types of food, such as flakes and pellets or granules and sticks.
If you have different types of fish that eat different types of food, this is a no-brainer for your tank.
The two separate chambers can also accommodate food that floats (or sinks) to a different degree.
Some foods come in sinking varieties, floating varieties, or even slow sinking varieties.
Each chamber can handle 160 ml and can be run on independent schedules for any customized feeding you choose.
The Eheim Twin uses four double A batteries to safeguard against a power failure.
Definitely one of the best model at an affordable price.
AquaChef Automatic Fish Feeder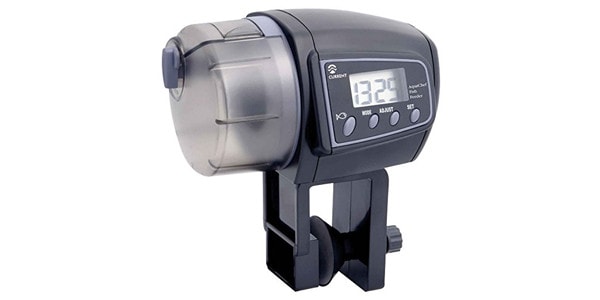 Current USA provides the next automatic fish feeder on the list.
A programmable timer tops the feature list on this automatic fish feeder that also features a water resistant container, keeping food from clumping.
The chamber can hold pellets, crumbled fish food, or flakes and allows you to set the portion size as well as the feeding schedule.
This unit is powered by two double A batteries allowing it to function even if there is a power failure.
The food chamber only stores 35 grams of fish food so keep that in mind if you have multiple tank inhabitants.
Lifegard Aquatics IntelliFeed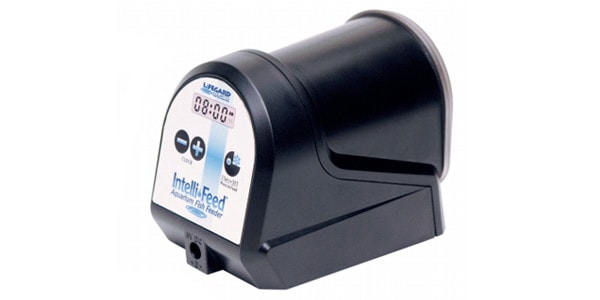 An LCD display and a keyboard highlight the list of features on the Lifegard Aquatics Intellifeed Automatic Fish Feeder.
Manual feedings are of course available, but a built-in, twice daily feeding schedule makes it easy to set and forget this feeder.
The drum-based feeding chamber moves out of its covering for feeding then returns to keep the food inside moisture-free.
The drum mechanism means that each feeding will be fresh, since the food inside is rotated before it is distributed.
Eheim 3581 "Feed-Air" Digital
Returning to the Eheim Company, the 3581 "Feed-Air" Digital Automatic Fish Feeder is a feature-filled unit.
If you're looking for bells and whistles then this is the model for you.
Batteries power the easy to read LCD display with an integrated clock and feeding schedules.
Fish food is stored in a moisture-controlled tank, leaving you worry free from wet food or clogged systems.
Nutrafin ProFeed Automatic Feeder
Simplicity is the name of the game for the Nutrafin ProFeed Automatic Feeder.
This model features a chamber capable of holding almost any type of fish food, including pellets, flakes, and freeze-dried food.
Moisture prevention technology keeps your food dry and your lines clog-free.
The unit also operates on battery power, claiming up to 12 months of regular usage on only a pair of double A batteries.
The ease of use carries over to the programming system, as it can quickly be set to multiple feedings per day and of course features a manual override.
NutraMatic 2X Automatic Feeder
Wrapping up the list is the definition of "set it and forget it."
The battery operated NutraMatic simply requires you to fill it with food and adjust the dial for the amount of food you want delivered.
After that, whatever food you supply (pellets or flakes) will be served every 12 hours.
It even comes with a bracket for mounting, though it can be freestanding if you prefer.
My top pick for your consideration
There you have it. My top pick for an automatic fish feeder. These feeders does the job and it is very easy to setup. You'll not go wrong with any of these automatic fish feeders.